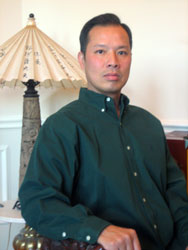 Personal Message From Master Lam Quan
Greetings,
I hope you will benefit from my Feng Shui Calendar.
We are challenged everyday by three major obstacles in Life. The first obstacle is our self. The second obstacle is time. The third obstacle is with whom we interact. How you resolve to live and how you choose to face your obstacles will determine the extent to which you can overcome them. Thru the Flow Concept page, you will learn how to face each of these challenges on a personal level.
From a feng shui perspective, there are three elements that can impact our life: time, living correctly, and the position of your house. With this personal calendar, I am empowering you with the proper tools to deal with the first two elements. By living correctly, you will put yourself on a path that will lead you to find a house that will be appropriate for you, thus addressing the third point.
May you live with peace and in harmony.

Master Lam Quan
---
Biography
Master Lam Quan is the founder of the Flow Concept School of Feng Shui. He studied martial arts since six, learned eastern philosophies, and various schools of Feng Shui. Master Lam Quan was chosen by Feng Shui Grandmaster NN to continue the old lineage of masters. After seven years of full-time intensive study, he was bestowed the title of Master Lam Quan in 2001. Lam Quan means "Rising Star."
Master Lam Quan came to the United States in 1975. He attended and graduated from Texas Tech University in 1988. Thereafter, he was employed by the federal government. He now operates his own non-profit Feng Shui Institute in Houston and offers classes on the ancient tradition.
Master Lam Quan was interviewed on the PBS show Living Smart (Video). On the show, he talks about classical Feng Shui, its myths, and how ancient wisdom of Feng Shui can help achieve harmony in one's life.
At the age of forty-two, he became enlightened to the secrets of Feng Shui. He called his realization - the Flow Concept.
What is the Flow Concept? Master Lam Quan phrases his realization as such:
'Life is no more than the flow of Feng Shui.
Flow with emptiness,
The Yin and Yang manifest.
The Five Elements reach harmony.'